Tickets are available for the main concert at Kilfenora Trad Festival at Custy's shop in Ennis, at Linnanes pub in Kilfenora, or online here – just €20. (You can also phone Noel O'Donoghue on 0878364780.) The concert is in Kilfenora Community Hall at 8 pm on Saturday 23 April.
The headliners are the fabulous 4 Men and a Dog – one of Ireland's premier live acts since they started in 1990, since when they have toured the world, and released 6 CDs. Their musical core is Irish traditional music, but with flavours of Americana and rock n' roll occasionally blended in. Chock full of instrumental virtuosos, the band is famed for its exciting live performances – both the music and wit are razor-sharp. See below for details of the band members.
Also on the bill is fiddler Simon Crehan from Laffin, Tipperary. He was winner of the inaugural 'Young Musician Award' at the Patrick O'Keeffe festival in Castleisland, Kerry in 2021, and won the prize to appear at Kilfenora at Garry Shannon's Meitheal Summer School. He will be accompanied by his elder brother Patrick on guitar.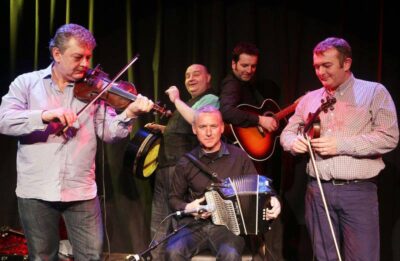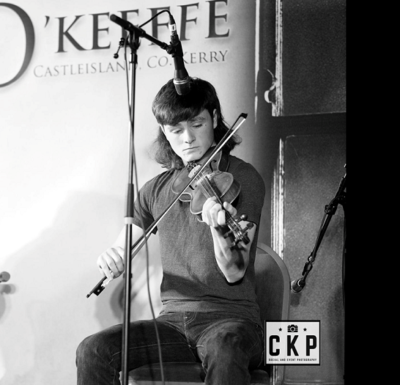 Members of 4 Men & a Dog are:
Cathal Hayden – one of Ireland's top fiddle-players, who can do lightning fast and lyrically tender with equal brilliance. He is also a top-class banjo player.
Stephen Hayden – rose to fame as the fiddle player in energetic trad band Upstairs in a Tent, over 20 years ago, and has more recently starred with brother Cathal in the Bow Brothers band.
Gino Lupari is a giant of the bodhran, in every sense of the word, and also has a great vocal style and wicked sense of humour to add to his percussive flair.
Kevin Doherty is a widely admired singer/songwriter and the guitarist in the band, part of a dazzling group of Donegal musicians that emerged in the '80s.
Donal Murphy is one of Ireland's best accordionists, who plays in a trio with Steve Cooney and Gino when not touring with the Dogs.