Around Kilfenora
Kilfenora is centrally located between many interesting villages and beauty spots, ideal for cycling or gentle motor touring around North Clare, using our network of small back roads with passing places (go slowly!).
Ennistymon
The historic commercial centre of North Clare, Ennistymon is well-known for its shops and pubs – many with an attractively old-fashioned feel – and for its spectacular waterfalls. Here too are some locations for Father Ted fans to search out.

Lahinch and Liscannor
Lahinch is a renowned beach resort in summer and a mecca for surfers all year round. Lahinch Golf Club has one of Ireland's finest links courses, and hosted the Irish Open in 2019. The nearby old fishing village of Liscannor has many charms, and is known for its food and pubs, and as the birthplace of the inventor of the submarine – John P Holland.

The Cliffs of Moher
This spectacular range of cliffs – 5 miles long and up to 700 ft high – are one of Irelands' premier tourist attractions, and a haven for many seabirds. The Burren Way walking route takes you past O'Briens Tower along the cliff tops, overseeing where the 'Aileens' wave breaks – now a legend for surfers – to the visitors centre and car park completed in 2007. See the Cliffs of Moher website for more information.

Doolin
Beyond the scenic circular Doonagore castle lies Doolin, well-known for its musical heritage, holiday accommodation and as the embarkation point in the summer for various ferry services to the Aran Islands and along the Cliffs of Moher.

Lisdoonvarna
Inland lies Lisdoonvarna, a spa location noted since the mid-1800s for its mineral waters. In recent decades it has achieved global fame for its annual 'matchmaking festival' held in September – not to mention being the location for the 1970s rock and folk festival celebrated in Christy Moore's song 'Lisdoonvarna'. Foodies can seek out the Burren Smokehouse and the Michelin-starred Wild Honey Inn.

Ballinalackan
A spectacular 15th century fortress, built on 10th century foundations, looks out to sea over Ballinalackan House, the nineteenth century home of Lord O'Brien, and now a hotel. Nearby visits can be made to see the largest free-hanging stalactite in the world, discovered in a cave only in 1952. Read more information about Doolin Cave here.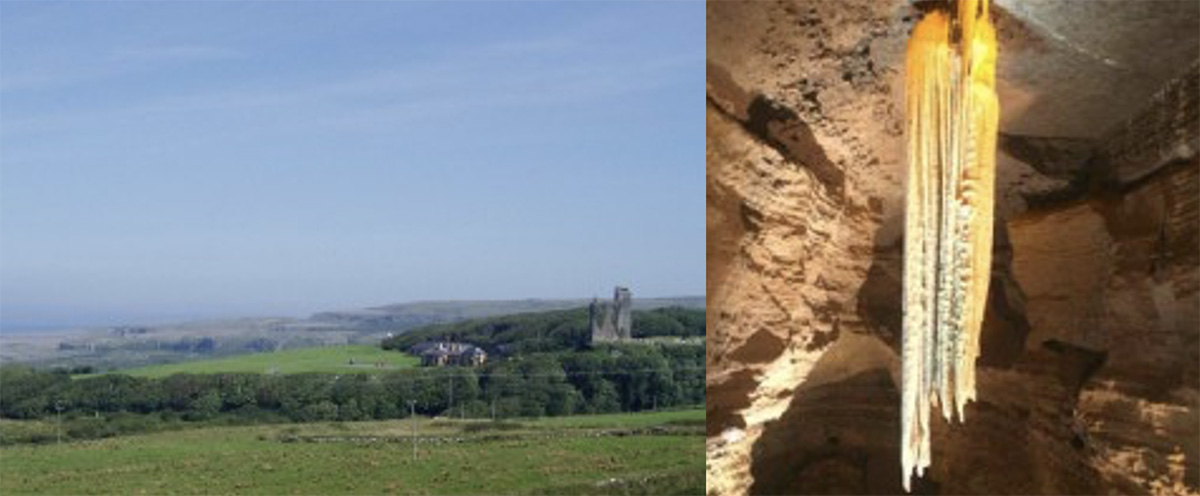 Fanore
A spectacular coast road through where the Burren Hills meet the sea leads to Fanore – the longest village in Ireland, where as its Irish name indicates a beautiful beach may be found. Its waves are popular with surfers and its dunes are preserved because of their distinctive flora and fauna.

Ballyvaughan
Beyond Fanore is the Black Head light, with the well-preserved Dun Irghuis fort on the slopes above looking across to the Connemara hills. After passing Gleninagh castle you reach Ballyvaughan, a local centre for tourism. If one returns to Kilfenora from here, you pass near Newtown Castle with its Art School, and ascend the hairpin bends of Corkscrew Hill. On the way you pass Aillwee, where Ireland's premier show caves are located, now with a bird of prey centre.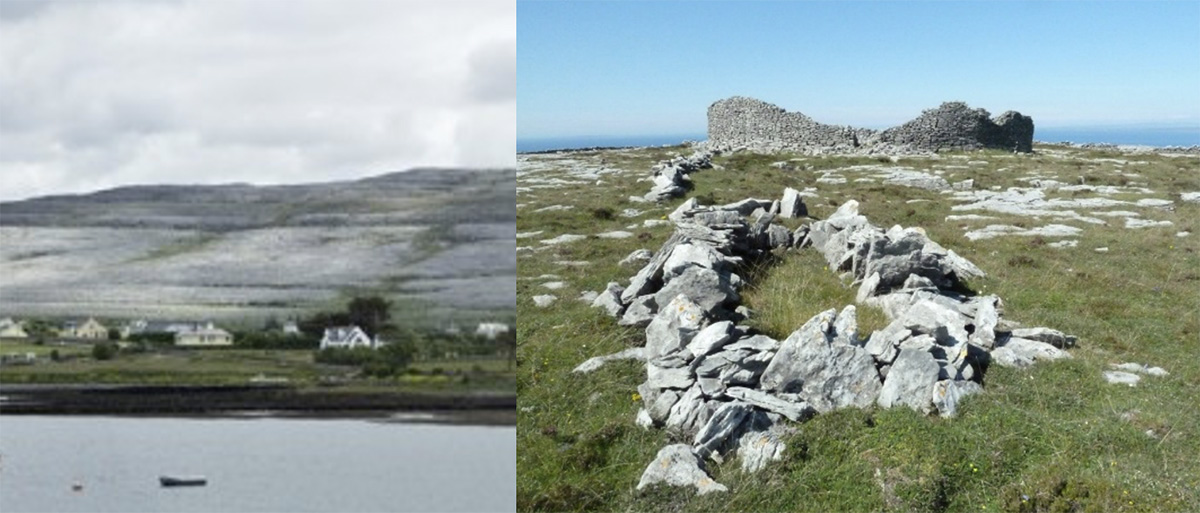 Newquay and the Flaggy Shore
Further along the coast, past signs for Corcomroe Abbey and various attractive sea strands, can be found a curious peninsular separated from the rest of County Clare by the tsunami emanating from the Lisbon earthquake of 1755. Among various attractions are its Martello tower and an intriguing stretch of fossil-laden rocks and sea-worn Burren limestone known as the Flaggy Shore , one of the best sea-shore areas in Ireland to undertake a nature search.

Kinvara
Just across the county boundary into Galway is the pretty port of Kinvara, looking across to Dun Guaire castle. A hotbed of musicians – traditional and modern – Kinvara has a music festival in May and another celebration in August built round a race of Galway Hooker boats.

Corcomroe and Carran
Returning towards Kilfenora from Kinvara or Ballyvaughan, near Bellharbour you pass the beautiful and well-preserved ruins of Corcomroe Abbey, with its fine carvings and tombs. Further on lies Carran, the only village within the Burren's preserved area. Its solitary pub, formerly a police barracks, overlooks one of the largest turloughs or vanishing lakes.
Kilnaboy and Corofin
Kilnaboy is an ancient monastic site, named after Saint Baoith, with a variety of historic buildings and artefacts surrounding it. Its most prominent ruined church has particularly interesting features – a round tower base, the cross of Lorraine mysteriously embedded in its walls, and a 'sheela-na-gig' carving above its door. Exhibitions are featured in the X-Po building, a former post office. A side-road leads to the wonderfully weird shaped hills around Mullachmore, and also to Glenquin House – which starred as the parochial house in Father Ted.
Nearby Corofin  – another village famous for its musical heritage  –  houses Clare's genealogical centre, and is a haven for anglers visiting nearby Lake Inchiquin. The road to Gort passes through Burren flatlands and skirts Loch Bunny, with Ballyportry and Boston castles along the route.

Dysert O'Dea
South of Corofin lies Dysert O'Dea, a historic battleground where in 1318 the local chieftans decisively defeated an Anglo-Norman army. The area is festooned with ancient monuments, chief among them its castle, church, round tower and finely carved St. Tola's high cross. Meandering backroads can be used to as an adventurous return route to Kilfenora via the old hamlet of Inchovea or by Lickeen Lake.