Here is the new proposal (see map and notes below) from Clare County Council reflecting the input of Kilfenora residents collected in June 2021. If you as a local resident have any further views, send them to Kilfenora Development Community Group by email ([email protected]) or in an envelope at O'Gorman's shop – by Monday 7 February.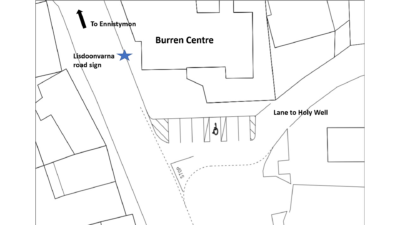 In June 2021, an extensive consultation was undertaken among Kilfenora residents about parking in the Square. Initial suggestions from Clare County Council about parking bays, bus stops and signage were considered, together with suggestions for installing 'parklets' and a central island. The great majority elected for keeping things simple and flexible as regards parking bays and installations.
The Council has reflected this in the recently released revised plan, which is very simple and respects three main conclusions from the consultation.
The only useful marked parking bays would be in front of the Burren Centre, including a 'disabled parking' space.

Access to the lane beside the Cathedral should be kept clear.

To address the issue of visitors mistakenly driving down the lane thinking they are heading for Lisdoonvarna, the traffic sign (by the Burren Centre) for Lisdoonvarna before you enter the Square from the Ennistymon direction will be removed. The directional signs near the recycling bins will remain.
Regarding other community requests from the 2021 consultation, note that bicycle racks were installed in a better location, and Bus Eireann bus stop signs may be provided in future. However, the Council as yet has no plan to install electric car charging points as we requested.