Kilfenora Time Capsule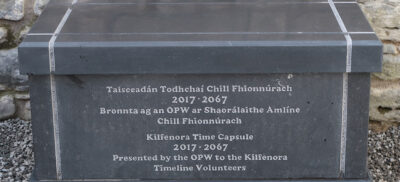 In a ceremony on Friday 16 March 2018, a time capsule was placed inside a specially designed seat installed in Kilfenora's ancient cathedral.
This time capsule – intended to be opened in 50 years' time – contains a collection of documents, photographs, music, family trees and other memorabilia compiled and contributed by families in the Kilfenora parish. In addition the capsule contains a film of a Culture Night show staged in Kilfenora on 22 September 2017 to celebrate the project, featuring a range of talent of all ages.
Also placed in the capsule is a record of the Kilfenora contribution to the 1937 National Folklore Collection – statements compiled by schoolchildren of that time arising from interviews with their parents and grandparents. This was kindly donated by the late Michael Slattery, and presented by his sister Maura.
The capsule was transported by donkey and cart to Kilfenora Cathedral, to the sound of traditional music played by young Kilfenora musicians positioned at intervals along the way.
It was then placed inside its permanent container within the display area of Kilfenora's ancient crosses, to the sound of "Clare, My Heart, My Home" – the celebrated song composed for the 2017 Fleadh Cheoil by Tim Collins of the Kilfenora Céilí Band – sung here by Kilfenora's primary school children.