Walking and Cycling
The best way to experience the Burren is by walking or cycling – slow down and use all your senses. It is a land of many hidden mysteries – ancient places and structures, geology, flora, fauna and social history. Visitors do well to seek out the various experienced Burren guides (check the internet) who can steer them safely to the most interesting places, identify the array of different plants and flowers, and provide in-depth explanation of how this unique landscape has developed.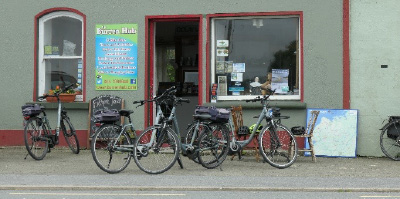 Kilfenora is the village closest to Burren that has all the facilities that visitors need – shops, food, accommodation – and is the ideal location from which to start your Burren tour. Kilfenora has long been associated with cycling and bike repairs. Also, at the Burren Hub in Kilfenora Square is the only cycle tour company located in the Burren – E-Whizz – providing guided tours with both electric and conventional bikes; these can also be hired if you wish to self-guide. (Advisable to book in advance.)
Routes around Kilfenora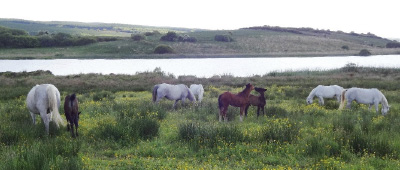 There are many pleasant walks that visitors can take in the environs of Kilfenora along our back roads. There is much to see along the flowery verges – including old lime kilns and wells – and many different farm animals to spot on your way (cattle, ponies, donkeys, sheep, pheasant and more). For example;
visit the Deanery and its woods along the 'Doolin road' (L1034) in the sports grounds past historic Ballykeel House
a wander along the Noughaval road (L1120) takes you past a stone fort on the left that used to have a shebeen (drinking club) inside; shortly after you can see a wedge-tomb across a field; turn right at the first junction and you will pass near the magnificent fort of Ballykinvarga (take care, access is across farm land), and you can return to Kilfenora on the road from Ennis
a slightly longer ramble south on the L1116 off main street will take you towards Lickeen lake.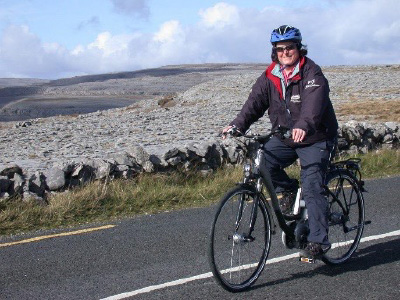 Here are a few longer hikes or cycle routes that you can take around Kilfenora (click to get map and distance details).
Wandering in the Burren
There are many established walking trails in various parts of the Burren. These are the best sources of information.
E-Whizz bikes has a range of routes on offer around North Clare, through the Burren and out to the Aran Islands.
And for those touring by car, various itineraries are on offer, such as from the Burren Ecotourism Network.
Wandering in the Aran Islands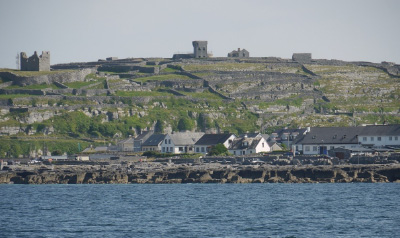 Accessible by ferry from Doolin, the three Aran Islands – Inis Mor, Inis Maan, Inis Oirr – are three magical chunks of Burren landscape in the Atlantic off the Clare coast. They are ideal places to walk or cycle (there is local bike hire in Inis Mor and Inis Oirr), whether on a day-trip or staycation. Check the island websites for information on the array of sights to see and things to do.
Scenic sea trips along the Cliffs of Moher are also available from the various ferry companies in Doolin.