Kilfenora – the village that's a City
While it doesn't take long to walk round Kilfenora, the discerning visitor can spot a number of features. These include:
The West Cross – a 13 feet high carved celtic cross in a field between the Cathedral and the Catholic church (both named after St Fachnan)
the plaque on the Burren Centre marking the centenary of the Kilfenora Céilí Band
a plaque on the Community Hall in memory of the filming of Father Ted
an ancient and curious structure by the new houses beyond Connole's garage, which was used as a reckoning station by merchants at Kilfenora's ancient butter market
the remnants of the Ballyshanny castle half a mile further on towards Lisdoonvarna, visible to the right of the road
Relax in Kilfenora Square and admire the flowers – there's plenty of seating for you to enjoy your treats from the Burren Centre's café. There's also a handy bicycle rack if you need it.
There's also a lovely spot to visit down the ancient lane past the Cathedral that leads to St Fachtnan's Holy Well (it's rare to have a holy well located right in a village). It's an idyllic place to sit, among the shrubs and flowers planted by the community.
Of course, Father Ted fans can have fun trying to spot the various locations used in filming the TV series. See here for more information.
Wander down the 'Doolin road' to the north side of the parish church, with the West Cross on your right, and you will first pass the ruins of Kilcarragh Church off to your left, and just further where the road bends you can make out the shape of an ancient rath (fort). You then pass the gates to the grand Ballykeel House (on the right) and beyond that come to the Sports grounds in which sits the old Deanery – a rambling but ruined mansion, well worth a peek. There is also a circular stone enclosure which in Spring is a fantastic mass of bluebells.
And as you wander around, admire Kilfenora's distinctive stone walls, built up over the centuries from Burren stone.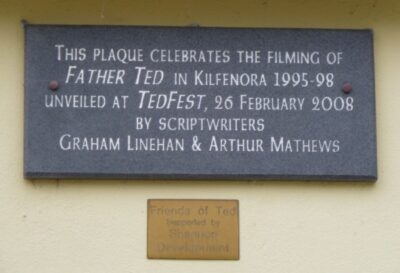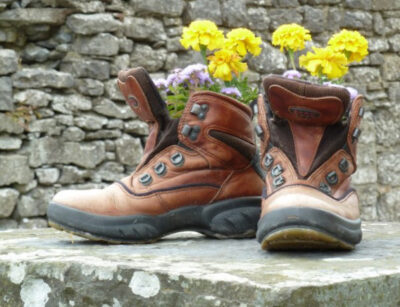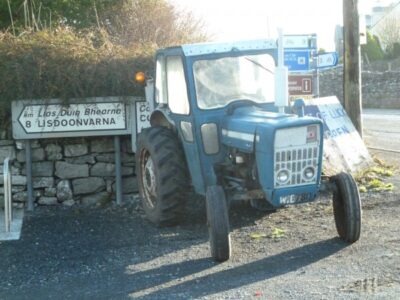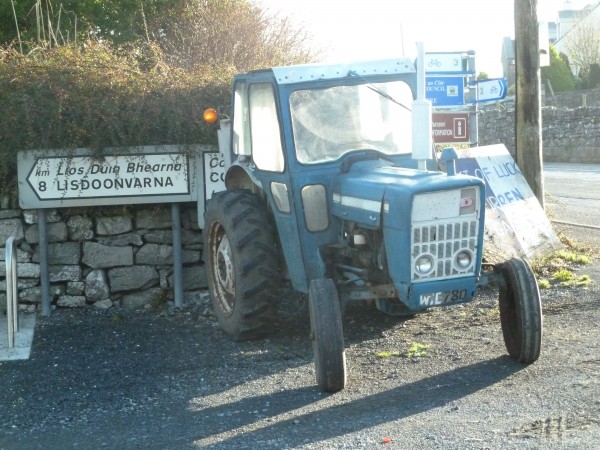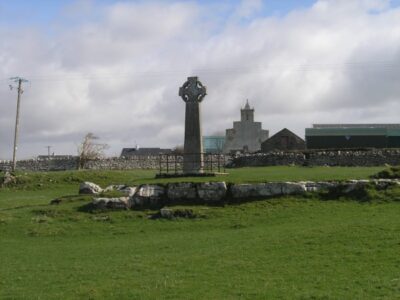 Old Kilfenora
Here are some pictures of Kilfenora in days gone by. These include a picture of the old National School, located in the Square where the Burren Centre now stands, and also the scenes when the earlier Burren Centre was launched in 1975.