Kilfenora has a long and proud record of community action over past decades, notably the creation of the Burren Centre Co-op, building the Community Hall and, more recently, staging the County Fleadh for 3 successive years.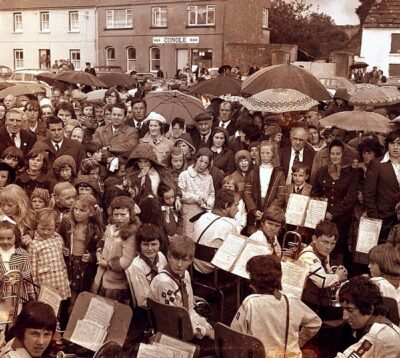 Even with a population reducing to about 420, there are still a significant number of community groups and activities. These include
• the Kilfenora GAA branch and its football team
• the Kilfenora Heritage Association, which inter alia manages the large loan incurred when the village bought and redeveloped the Deanery grounds to create sports playing facilities
• Kilfenora Gun Club, which stages clay pigeon shoots
• The Kilfenora Hall Committee, recently engaged in renovating the community hall
• Kilfenora Comhaltas branch, which seeks to support young local musicians in particular
• Kilfenora Traditional Music Festival – organises the annual festival.
Other notable groupings include the Kilfenora National School board, St Fachnans Church choir and the Kilfenora Players which stages occasional and highly successful plays.
Clare Local Development Company has identified significant challenges for community action in small rural communities, often starved of financial support and dependent on a few willing volunteers to make things happen. A significant problem is lack of integration – individual community groups acting independently rather than collaboratively.
To combat this, Kilfenora Development was formed as an 'umbrella' community group in December 2020 – with most local activities represented on its Steering Committee. Its aims are to promote the regeneration of the village; to raise its profile as a place to visit, live and work; and to serve as the focal point to obtain/deploy development funding and interact with institutions such as Clare Council and Fáilte Ireland.
As a consequence, Kilfenora revived its Tidy Towns team in Spring 2021, and this is engaged in a range of projects to improve the appearance of the village.
In addition, a project team of volunteers was created in October 2021 – the Kilfenora Sustainable Energy Community – to explore the possibilities for the Kilfenora community to use and obtain energy more cost-effectively and sustainably.