Hooray! We plan to stage the Kilfenora Traditional Music Festival again on the weekend of 23-24 April 2022. We will adopt a similar format to previous years with events and sessions on the Friday and Monday as well.
This will be the 12th festival in a series that began in 2009 with the centenary of the Kilfenora Céilí Band. The festival is noted for great concerts and céilís, plus cracking CD launches and pub sessions.
We can announce that our main concert act on Saturday 23 April will be the mighty '4 Man & a Dog', who last appeared in Kilfenora 10 years ago. There should be some great supporting artists as well – watch this space. If you want to book your ticket early, contact Noel O'Donoghue on 0878364780.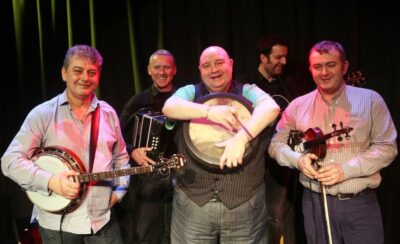 The ever-popular Star of Munster Céilí Band will be leading a céilí later on Saturday night – bring your dancing shoes. And put them on again on Sunday for the traditional open-ait céilí in the Square with the incomparable Kilfenora Céilí Band. There will also be a younger band or two featured.
Obviously the pandemic prevented us from staging the festival in 2020 and 2021. We hope that by April the restrictions we have all faced will have been finally removed.
So keep checking the website and facebook page for more news in coming few weeks.