National Heritage Week runs from 13-21 August, and Kilfenora's community group (Kilfenora Development, inc the Tidy Towns Team and Community Archeology) has taken up the challenge to mount a number of events designed for the local community – including kids – and visitors. So, come into the village – there's lots of varied events (and tasty food too!).
Some of these events are described in more detail on the national website here. (There's a special focus on biodiversity this year.) A poster with the main events will also be on view in various places in Kilfenora and around. All events are provided free.
Art project on Kilfenora's famous crosses
For children in the area, there is a fun project you can start right now. Visit Kilfenora's historic 12th century celtic crosses in the glass-roofed chapel by the Cathedral, and choose your favourite 'Kilfenora Cross'. Then do your own drawing of the cross, with or without colour. If you are too young to draw, you can colour in drawings of 3 of the crosses available as downloads here – the West, North and Doorty crosses. GET DRAWING, KIDS – SHOW US WHAT YOU CAN DO!
Submit your drawing(s) to the Burren Centre by Wednesday 17 August. All the drawings will then be on display in the Burren Centre from 19-21 August. (This project is supported by Clare Co Council, Burren Beo and the Heritage Council.) For more details, click here.
Sunday 14 August, 12-2pm – Habitats, Monuments and Culture of Burren Winterage Farming
A walk with Bernie O'Connor – meet at Tom Carkill's Farmyard, Clooneen, V95 Y9T4 (near Leamaneh Castle).
Thursday 18 August, 11-1pm – Antiques Rockshow 
Bring any rocks and fossils you have found in the Burren to be identified by Geopark geologist Dr Eamon Doyle. Learn how and where the fossils lived when they were alive and how old they are. At the Burren Centre, Kilfenora.
Friday 19 August
2-3 pm – Cycling tour round the Market Heritage of Kilfenora
A short cycle ride around the local area with Janet Cavanagh of E-Whizz Bikes, focusing on the 1000 year history of Kilfenora as an agricultural market centre. Bring your own bikes and helmets! (If you are a visitor, you can book an electric or conventional bike in advance at E-Whizz Bikes.)
7 pm – The Meadow of the Birch Trees: the heritage of Inchovea (Kilfenora Hall)
A talk about the historic Kilfenora townland of Inchovea by local historian Pat Looney, archaeologist Edel Barry and other contributors. Lots to learn – for both locals and visitors.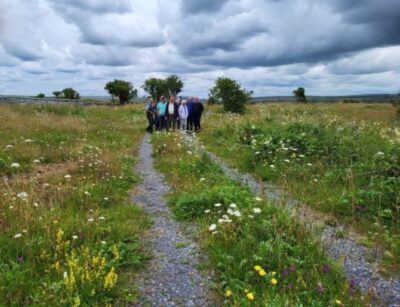 .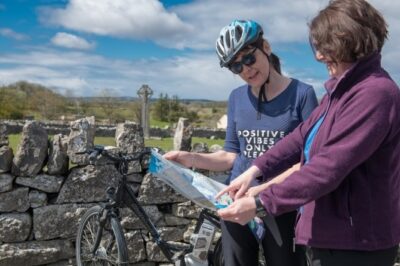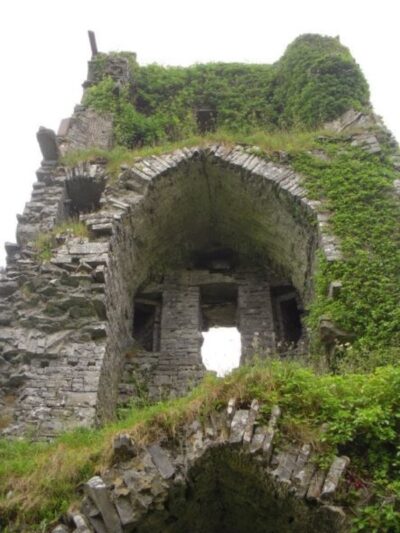 .
Saturday, 20 August
12 midday – Come to the Well!
Unusually, Kilfenora has a holy well inside the village, down a lane off Kilfenora Square past the Cathedral. A Biodiversity Trail has also been created there, and archaeologist Edel Barry and horticulturalist Lieke Schonemann will tell you all about St Fachnan's Well and the new Trail.
1 pm – Music at the Burren Centre
With St Andrew's Céilí Band (30-40 mins)
2-5pm – St Fachnan's Cathedral, Kilfenora Square
The interior of this historic building will be opened for the afternoon, the seat of both Anglican and Catholic bishops (the latter being the Pope!). There will be a briefing on the amazing history of the Cathedral, including facts that even locals won't know. There will also be a talk and demonstration by Pat Lynch, renowned local fiddle player and long-time member of the Kilfenora Céilí Band, on what creates the special rhythm that characterises céilí music.
5-7 pm – Traditional music sessions (and pizza!), Linnane's Pub Beer Garden, Kilfenora Square
There will be a trad session for Under-12s at 5pm followed by a session at 6pm for Teens (U18), led by local fiddle teacher Rachel Reid. There will also be optional slices of pizza available (at a small cost) cooked up by pizza maestro (and flautist) Stefan in his fabulous mobile pizza oven. Bring your instruments!
Sunday 21 August
Open Day at the Burren Centre (10am-5pm), Kilfenora Square
There will be free entry to the Burren Visitor Centre's two exhibitions – the Burren exhibition (A Walk Through Time) and the unique Kilfenora Céilí Band Parlour (the music of North Clare and this iconic band). In addition
• St Andrew's Céilí Band will play outside at 1pm, followed by
• a dance demonstration (sean nos) by Aibhin Holden's fabulous young dancers, and
• a rolling slide show of photos and video of Kilfenora's past in the auditorium – if you are a local, come and see who you recognise (maybe yourself!)
Eating and drinking
Throughout the week there are tasty food options available in Kilfenora at the Burren Centre café (9-5pm), at Vaughans Pub (lunch and dinner) and at Linnanes Pub (Stefan's pizzas on Friday and Saturday, 6-9pm). And a great pint can also be had in Nagles Bar.
There are also traditional music sessions on Wednesday night (Linnanes, 9pm), in Vaughans Pub (Friday, Sunday) and often live entertainment on Saturday at Vaughans (10pm).
Check Kilfenora Online facebook page for updates