A historic occasion took place in Kilfenora on Sunday 3 July 2022 when a plaque in honour of Kitty Linnane – pianist and leader of the Kilfenora Céilí Band for some 40 years – was unveiled at the family house in Kilfenora's main street.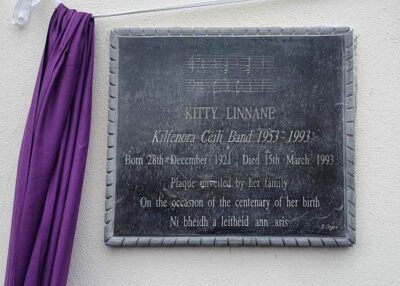 The plaque commemorates what would have been her hundredth birthday in December 2021. (Due to the pandemic the unveiling was delayed; she passed away in March 1993.)
There was a great gathering of Linnane family members as well as musicians, family friends and villagers to witness the event. The plaque was created by local musician and craftsman Brendan Organ.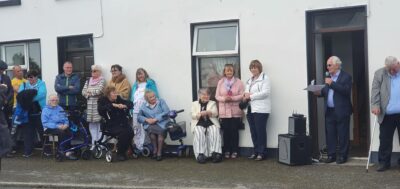 John Morgan provided an introduction, followed by tributes and anecdotes provided by her son Bobby Linnane and by John Lynch, Kitty's successor as leader of the Kilfenora Céilí Band. A vivid picture was painted of a great musical pioneer, and also a powerful force for good in sustaining the Kilfenora community. Such was her influence that she could telephone the President of Ireland Patrick Hillery (among other dignitaries) and bring them to Kilfenora to launch the rebuilt Community Hall.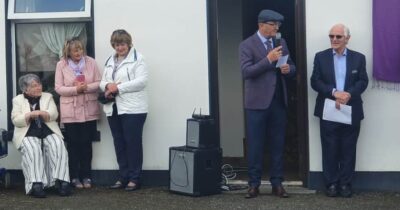 Afterwards there were refreshments provided in Linnane's pub with a cracking session with some of the musicians in attendance, including Bobby Gardner, Seamus Hynes, James Devitt, Antóin Mac Gabhann, Anne Rynne, JJ Conway, Michael Kelleher, John Joe Tuttle, Siobhan O'Donoghue, Francis Droney, Andy Lambert and Judith Lynch.