There has been a flush of growth around Kilfenora in the last few weeks and it's lovely to see the blossoms start to come out on the whitethorn and rowan, among others, while most of the trees are now in leaf.
In the village beds the proliferation of daffodils has finally died back and now that that abundant display has come to an end, the Tidy Towns team has set to work to clear the weeds and excess vegetation, so that we can see which of our perennials from last year have survived the winter, and what needs replacing. Our resident horticulturalist, Lieke Schonemann, will be heading to Caherhurley nursery next week to buy some new ones so that our beds on each of the approach roads to the village will be a riot of colour, and buzzing with pollinators, once more.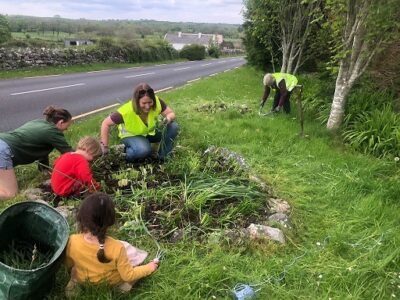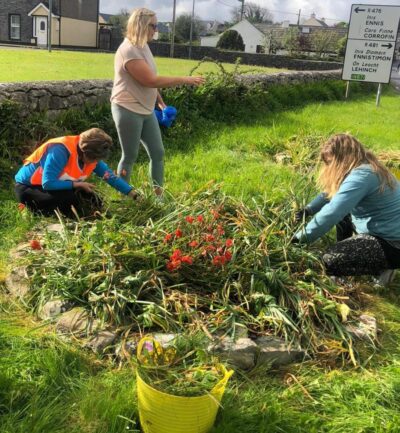 The RSS group have just added some lovely rustic signs to St Fachnan's Well Biodiversity Trail; these signs mark each of the gardens at the trail. They were commissioned by Tidy Towns, and made by Ennistymon Vocational School Transitional Year Woodwork Class, and their teacher Conor. They fit in perfectly with the picturesque quality of the Biodiversity Trail and finish off this area beautifully. Thanks to the RSS for getting this done for us!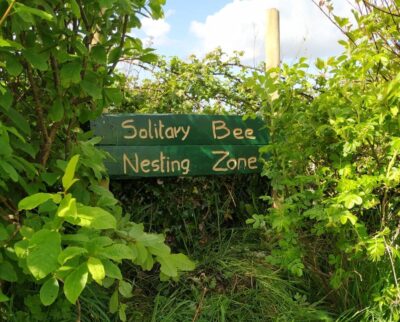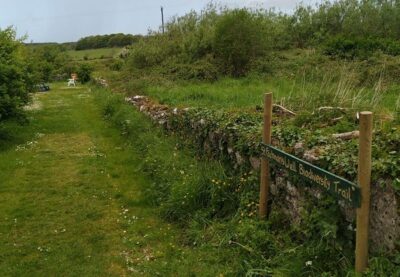 Tidy Towns will be planting, painting and weeding over the next few weeks to freshen up our planters and public areas, as we anticipate the Tidy Towns judges will be paying us a visit in June. If anyone would like to get involved, as ever we are very keen to accept new members. It's fun, positive, social, and a great way to make connections with like-minded members of the community! Contact us on 087 761 8318, [email protected], or on Instagram @kilfenora_Tidy_Towns.