A new biodiversity trail was launched on 21 October at St Fachtnan's Holy Well in Kilfenora.
This was created by the Kilfenora Tidy Towns team as part of the work it has undertaken on behalf of Kilfenora Development Community Group to improve the village's appearance during 2021.
This has included improving and creating new flower beds in and around the village; installing planters in Kilfenora Square; weeding pavements; and undertaking clean-ups of approach roads and graveyards. This has involved some great community efforts, including Kilfenora primary school and kindergarten children planting 500 spring bulbs.
The biodiversity trail was created with the help of locally-based horticulturalist Lieke Schonemann of Lieke's Natural Way.
The Holy Well is less well known than Kilfenora's Cathedral and crosses, but is a wonderful place to sit and relax just off the main Square. There is ample seating for both the local community and visitors to use.
The improvement works have been aided by grants obtained by Kilfenora Development from Clare County Council and from the Tidy Towns organisation.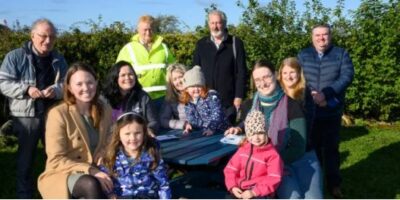 Councillors Joe Garrihy and Joe Killeen have been particularly supportive, along with Regeneration Officer Niamh Wiley, who attended the launch ceremony along with Father Ned and members of the Tidy Towns team, as shown in the photo taken below by Eugene McCafferty on behalf of the Clare Champion.